The Red Fleet
Edit
The Red Fleet of House Tawney is made up of 42 vessels, three of which are war-grade longships.
(Work in progress.)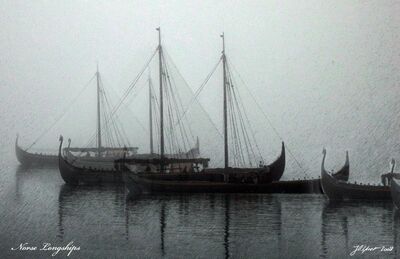 Longships
Edit
Wavebreaker
Edit
Captained by Lord Roryn Tawney.
The lead longship of House Tawney's fleet, it is captained by the Lord of House Tawney.
The Dark Lady
Edit
Captained by the Lady Kara Tawney.
The Valkyrja
Edit
Captained by the Lady Runa Tawney.
Swift Retribution
Edit
The Red Scourge
Edit
Widowmaker
Edit
Freja's Vengeance
Edit
The Witch of Orkmont
Edit
The Scorned Woman
Edit
The Grey Ghost
Edit
The Iron Lady
Edit
The Black Beast
Edit
The Iron Serpent
Edit
The Bearded Snekke
Edit
Melusine's Lamentation
Edit
Reaver's Wind
Edit
Saltstone
Edit
The Fairhaired Maiden
Edit
The Sea Stallion
Edit
Waverunner
Edit
Misery's Company
Edit
Redhammer
Edit
The Wave Maiden
Edit
Berrahn's Broadside
Edit
Firebrand
Edit
Lady Asta
Edit
Merciless Mistress
Edit
The Hamingja's Burden
Edit
Otherwise known as the soul's burden.
Black Tide
Edit
Orkmont's Axe
Edit
Balon's Revenge
Edit
Stormwinds
Edit
Implacable
Edit
Barbed Blade
Edit
Maelstrom
Edit
Cold Fury
Edit
Risen Again
Edit
Jörmungandr
Edit
Leviathon's Maw
Edit
Drakkarsbane
Edit
Ad blocker interference detected!
Wikia is a free-to-use site that makes money from advertising. We have a modified experience for viewers using ad blockers

Wikia is not accessible if you've made further modifications. Remove the custom ad blocker rule(s) and the page will load as expected.