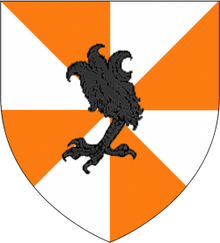 House Lychester is a noble house from the Riverlands, sworn to House Baelish and bannermen of House Tully. Castle Lychester sits four days from the Red Fork.
The sons of Lord Lymond Lychester were divided during Robert's Rebellion. Some fought with the Baratheons, others with the Targaryens. All died by the end.
During the War of the Five Kings, Lord Lymond bent the knee to the Lannisters and aided in the siege of Riverrun.
Lymond Lychester (235 - 303)
Lorimas Lychester (237 - 294)

Hoster Lychester (260 - 323)

Eustace Lychester (283 - 360)

Minisa Lychester (302 - 340)
Florian Lychester (306 - 358)

Mortimer Lychester (334 - 367)

"King" Lychester (An infant)

Bryen Lychester (307 - 327)
Ellyn Lychester (309 - 361)
Ad blocker interference detected!
Wikia is a free-to-use site that makes money from advertising. We have a modified experience for viewers using ad blockers

Wikia is not accessible if you've made further modifications. Remove the custom ad blocker rule(s) and the page will load as expected.