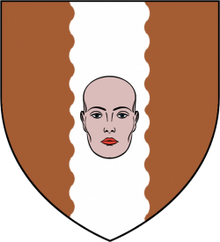 House Graceford of Holyhall is a noble house from Holyhall in the Reach. They are bannermen of House Tyrell.  they blazon their arms with the Mother's face upon white pale wavy dividing a brown field Their words are "Work Her Will".
The Gracefords of Holyhall have traditionally been a religious House with a particular devotion to the Mother.
Alyce Graceford was a part of Margaery Tyrell's entourage during the War of the Five Kings. Pregnant at the time, Alyce named her son in honor of the late Tywin Lannister. She later fled with the rest of the Tyrell host before the siege of King's Landing. She would name her second son in honor of Daenerys Targaryen.
The Gracefords would become great supporters of the Queen, the woman who defeated the Lannister Baratheon alliance that sought to execute Margaery Tyrell.
Lucas Graceford (Deceased)
Alyce Graceford (Deceased)

Tywin Graceford, Lord of Holyhall (68) - Alyssa Varner (67)

Aegor Graceford (46) - Anya Pommingham (41)

Mark Graceford (21)
Lucas Graceford (17)
Aemma Graceford (15)

Desmond Graceford, now called Septon Desmond (45)
Melissa Graceford (38) - Jon Ambrose (41)

Raymund Ambrose (18)
Owen Ambrose (16)
Alyssa Ambrose (15)

Patrek Graceford (37) - Mina Westbrook (35)

Daena Graceford (13)
Aelinor Graceford (11)
Rhae Graceford (10)
Visenya Graceford (9)
Baelor Graceford (3)

Daeron Graceford (64) - Meredyth Kidwell (66)

Russell Graceford (45) - Margot Middlebury (39)

Arthur Graceford (20)
Alerie Graceford (14)

Elinor Graceford (41) - Edwyn Webber (39)
Alicent Graceford, now called Septa Saryse (37)
Daenerys Graceford (35) - Jon Ashford (31)

Samwell Ashford (14)
Olenna Ashford (11)
Ad blocker interference detected!
Wikia is a free-to-use site that makes money from advertising. We have a modified experience for viewers using ad blockers

Wikia is not accessible if you've made further modifications. Remove the custom ad blocker rule(s) and the page will load as expected.